Teresa Chandler
Teresa Chandler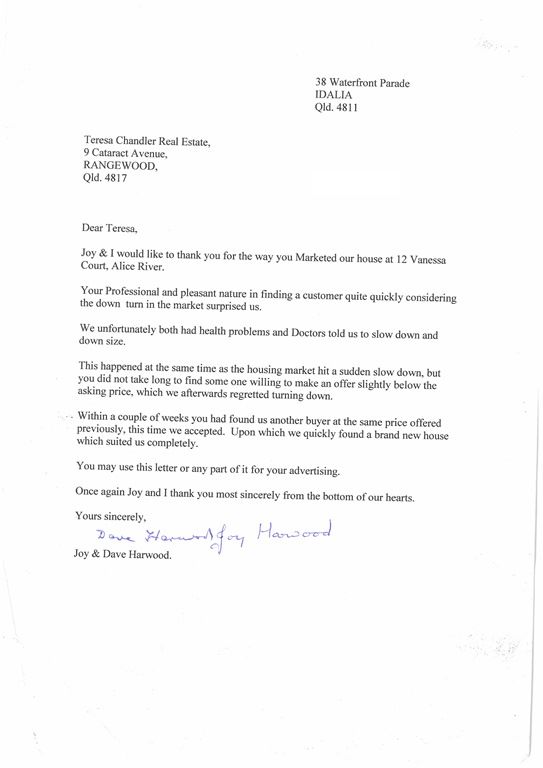 Selling 3 Jade Ct
Andrea & Ken Weightman- Seller Annandale
Lesley & Brad were sincere, honest & diligent in their approach in selling our home. They kept us informed at all times. It was lovely to have trust in our realestate team. Many thanks again for your help in selling our home. Looking forward to building our new home & catching up for coffee.
Trustworthy and honest
Craig & Alexie White – Sellers Hermit Park
We were impressed with Lesley when we purchased our home from her, so when we had to sell just over a year later she was our first choice. Friendly and trustworthy with honest advice, we can highly recommend Lesley.
Great Agent
Marie & Ian Hildred- Seller Annandale
Lesley, was very professional, who listened to what we wanted as sellers and produced an excellent marketing campaign. Would recommend Lesley to anyone wanting to sell.
Made selling a pleasure
Sass & Rodney Wood- Seller Idalia
Lesley from the very beginning was open and honest. We were kept in the loop the entire time. Considering our higher end price range and the housing market we had a contract signed in 5 weeks! We were thrilled and so grateful for the time and effort that Lesley put in, we highly recommend her, thank you again Lesley, you made selling our home a pleased
Very energized and pleasant
Ron & Lorrain Williams – Seller Kelso
Lesley is easy to recommend Lesley listens and gives advice when asked, Lesley is a hard worker , and is always lovely
Sale of Kelso Executive style home.
Tracy- Seller Kelso
As always, the level of communication and professionalism from Lesley was impeccable. She is reliable and thorough, and knows the market well. She achieved the price we were after within 30 days, and everything went smoothly. Would definitely recommend her.
Lesley Rowan Review
Sheree & Damian Bella- Seller Pallarenda
We would highly recommend Lesley as an agent. We first dealt with Lesley in 2011 when we purchased our Townsville home through her and than just recently Lesley sold our home for us in 2015. Lesley is honest, reliable, contactable and a pleasure to deal with. Lesley has been in the real estate industry here locally for a long time and knows the market.
Mel Wetherell
We had a problem tenant we were trying to manage from Western Australia. We decided that we needed a local real estate agent. I initially chose Ray White at Annandale because they were the closest agency to the rental house. As soon as Melissa made contact with me, I knew that we had chosen the right agent. I explained the situation by email anticipating a 'that's too hard' reply. Melissa accepted the challenge and made contact by email and phone. We flew to Townsville and met with Melissa. Half an hour later we went to the house and did an inspection with Melissa, identifying many defects that needed to be rectified. Less than 24 hours later Melissa had 4 separate tradesmen at the house. I was very impressed with Melissa's professionalism, the way she handled a delicate situation dealing with us and the tenant, and the speed at which she organised things to be done. We left Townsville to fly back to Perth feeling better about our problem rental than we had in a long time. Melissa still has issues to deal with on our behalf and I know they couldn't be in better hands! Diane and Danny Hogan
Bunbury, Western Australia
— Diane and Danny Hogan, 10 October 2011
Pallarenda
Natalie Craig Hosie- Buyer Pallarenda
The purchase of our property was certainly made easier through the dealings we had with Lesley. We found Lesley to be patient and very obliging. There were several times when my wife and I wanted to walk through the property and Lesley was always happy to speak with the previous owners and arrange this for us, we weren't restricted to only the days Lesley had an open house at the property.